Doctors & Staff
Meet the experienced and friendly doctors who make West Coast Eyecare the leading provider of vision care products and services in Holland.
Dr. Kathryn Mulder DeJonge
Dr Kate Mulder DeJonge is pleased to have joined West Coast Eyecare. She is excited to be practicing optometry in her hometown of Holland. She has a genuine interest in every patient's care and satisfaction. She brings experience in the newest and best training and techniques. She looks forward to continuing the wonderful professional relationships Dr Kolk established before his retirement in March 2009.
She is a Holland Christian High School graduate, a Hope College graduate with a Bachelors of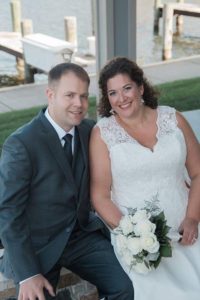 Science in Biology and Biochemistry and an Illinois College of Optometry graduate with a doctorate of optometry.
Dr DeJonge and her new husband Dan were  married in late 2016.  Stop by and give her a big CONGRATULATIONS!
Dr Mulder DeJonge enjoys being one of the world famous Dutch Dancers of Holland Michigan!  She likes swimming, boating and anything beach related during the summer. During the winter she enjoys escaping to Florida for a quick warm up and snuggling at home with her new husband.